Eat, Sea, Stay: Sarasota, FL
Florida, oh Florida! I've been to this sunshine state oh so many times. Canadians love Florida, and it's proven to be the perfect long term getaway for those close to me. My grandmother is a complete snowbird with a place in Deerfield Beach, FL. My grandparents used to have a condo in Hollywood, FL. One of my best friend's parents have a house in Naples, FL and this is the birthplace of many a great recipes on her mother's food blog (shout out to Salt and Serenity!). So when I had the chance to join one of my oldest friends, Andrew Lovesey of Canadian Geographic, and assorted Canadian media on a journey to a new kind of Florida (for me), I jumped. As you already know NOW from the social media frenzy (sorry not sorry, there's just too much to cover sometimes!), coming along was Maca of @hey.maca, Soheila of @soheilaonline and Vern from @realmovernie. We all bonded instantly; the squad was complete and boy, did we eat.
Sarasota is a stunning little beach town. With a population of just over 50,000 and pristine beaches like Siesta Key, it's no wonder why MTV chose it for the backdrop of this generation's answer to Laguna Beach. The downtown is compact and clean with blooming flower beds and soaring palm trees. Dig deeper and many surprises start to unfold, revealing that this beach town is much more than the sum of its sand (though, scroll down to hear about this glorious sand). In Sarasota, there is a prominent arts and culture community, shown through their preservation of art deco homes, quirky shops and choice restaurants.
Here some highlights below so you can know where to eat, get wet and spend a little quality time in Sarasota. To learn more out more about this region of Florida and my time there, check the ToFoodies Eat, Sea, Stay Guides for Tampa and Punta Gorda which are coming soon!
Eat:
Drum Circle Distillery - You just learn something new every time at a distillery, winery and brewery tours. Circle Drum Distillery is a small operation that focuses on their Siesta Key label with small batch, hand-signed, hand-labelled, hand-bottled bottles of rum. It's all especially impressive when you consider the high marks they've achieved in worldwide rum competitions (Siesta Key rums won five gold medals at Rum Renaissance 2015, while going against all the major players). In their tiki-themed tasting room, you can try the merchandise alone or in a small dose with their own cocktail blends, changing seasonally. The only current flavour of the super-smooth rum is toasted coconut, otherwise all the classics and reserve collections are represented. Sold beside handy recipe cards with some folksy matching merchandise, people come out here in droves. Drinking is eating, right?
5 Oh Donut Co. - Next door to a bail bondsman and worth the stop, 100%. Homemade, super-inventive, freshly baked donuts with the most insano topping and true attention to detail. Take the Moose Tracks donut with chopped peanuts, chocolate covered peanuts, peanut butter cups, crushed waffles cone and peanut butter buttercream! So many elements! Very rich and high quality ingredients to boot. And here's an Instagram hot tip: of the entire trip, my most successful post was taken here and you know that's thanks to these drool-inducing donut gems.
Selva Grill - A great entry point into Florida, as it was my first dinner in town. Serving new Latin cuisine, the menu is vast with ten ceviche options alone. I tried the super fresh trio sampler (Selva Wild white fish, Spicy Tuna and Maya Shrimp) and each ceviche was served a paper thin wonton crisp. For a main, I ordered the whole fried snapper with Cuban-style black beans, rice and lime ginger sauce. The fish was massive, crispy yet flaky inside with presentation on point on every plate. Peruvian corn standing up straight on a sticks in a half wedge of lemon. A tower of watermelon and tuna. The inventiveness shines.
Shore - Some of my favourite food on the trip for it's simple yet playful takes on classic Florida fare. Check out this Cobb Salad presentation!!! A whole head of cauliflower was roasted with currants and hazelnut pesto. Seriously, the local shrimp and scallop took me over the edge, served with the lemon risotto and tomato confit. Keep in mind, all of this with a retail clothing shop downstairs! "Shore Brand", talk about doing two things very well.
Columbia Restaurant - Maybe this is your perfect welcome to Sarasota! There are now five Columbia locations in Florida, and the St. Augustine restaurant is one of the oldest restaurants in all the USA (in a historic district of the nation's oldest city, founded in 1565). With Spanish and Cuban-influenced cuisine, there's really nowhere you can go wrong. So old school that there are a few table-side offerings like mojitos, sangria and tossed salads and the proclamation of "The Original Cuban Sandwich". The seafood offerings are plentiful with a small menu of specials changing daily. Help yourself to some tapas like Ybor City Devil Crab Croquettes (similar to hushpuppies) and or go for a full plate of fish fillets and paella, either way you will leave full and happy.
C'est La Vie - Perfect for breakfast al fresco. Perfect for a cappuccino. Perfect for a Croque Madame (a croque monsier with a fried egg on top). That's what I experienced on the fine, sunny, morning and I suggest you do the same! I also snagged some bites of croissant. Take a page from my book. See below for a perfectly ready-to-burst yolks and click here for a video of it bursting.
Sea:
Siesta Key Beach - THE place to be. As previously mentioned, ahem, this beach is famous. The original pavilion and surrounding picnic bench area underwent a multi-million dollar revitalization in recent years, and it looks oh so welcoming. A trip would simply not be complete without coming here to see the colourful lifeguard towers and experience the joy of the 99% quartz beach sand on your feet. What does that mean to you? The sand. doesn't. get. hot. Isn't that wild?!?! It boggles my mind thinking about how much heartache I would save if I was travelling here with a young family, or anyone.
Lido Key Beach - A perfect alternative to Siesta Key, and perhaps your best option during a high season. The sand similarly pristine, and it's not as busy. Plus, this beach is walking distance from St. Armands Circle, so it could be a really nice dual-activity to eat at Shore or Columbia and then stroll over here.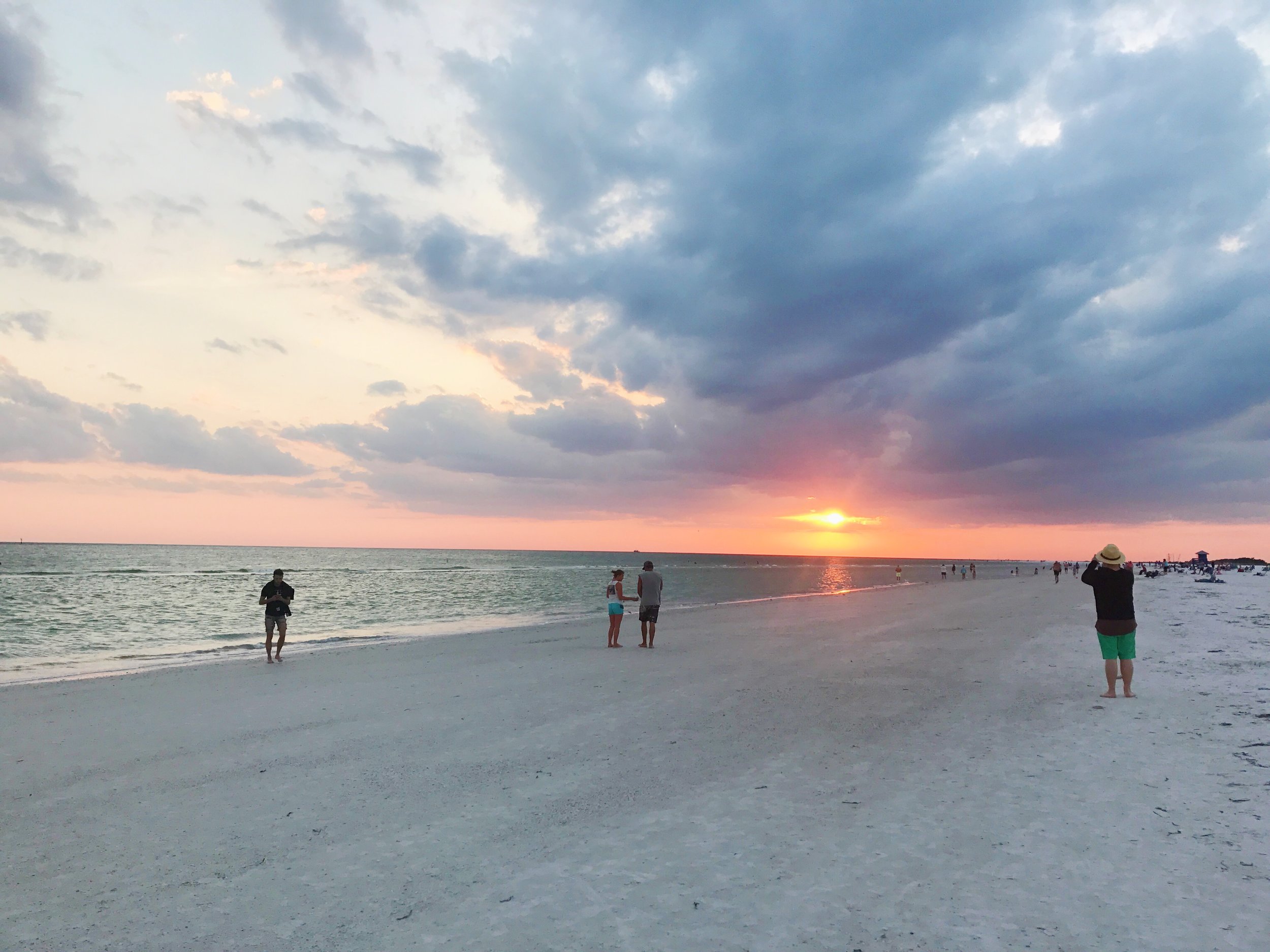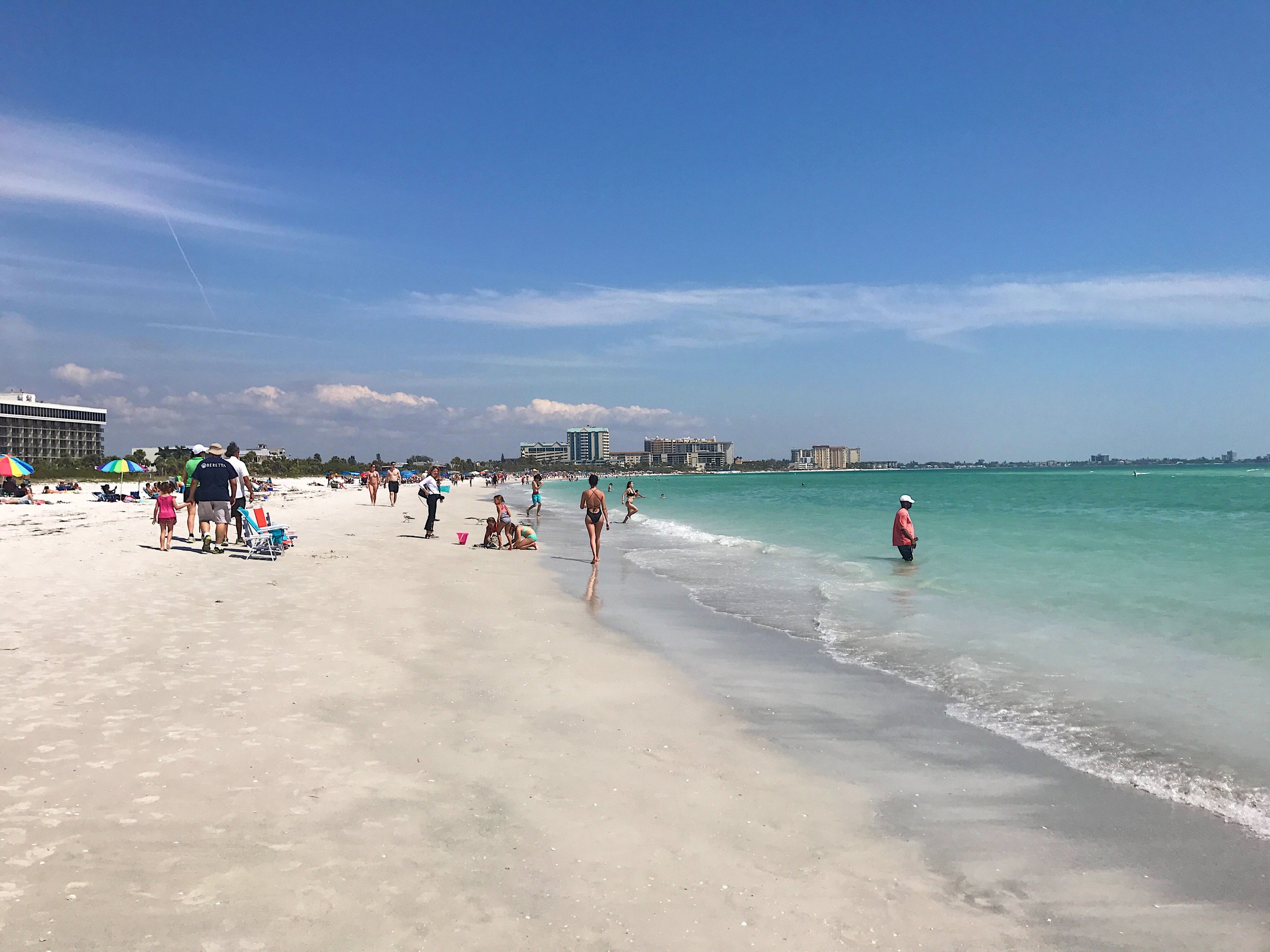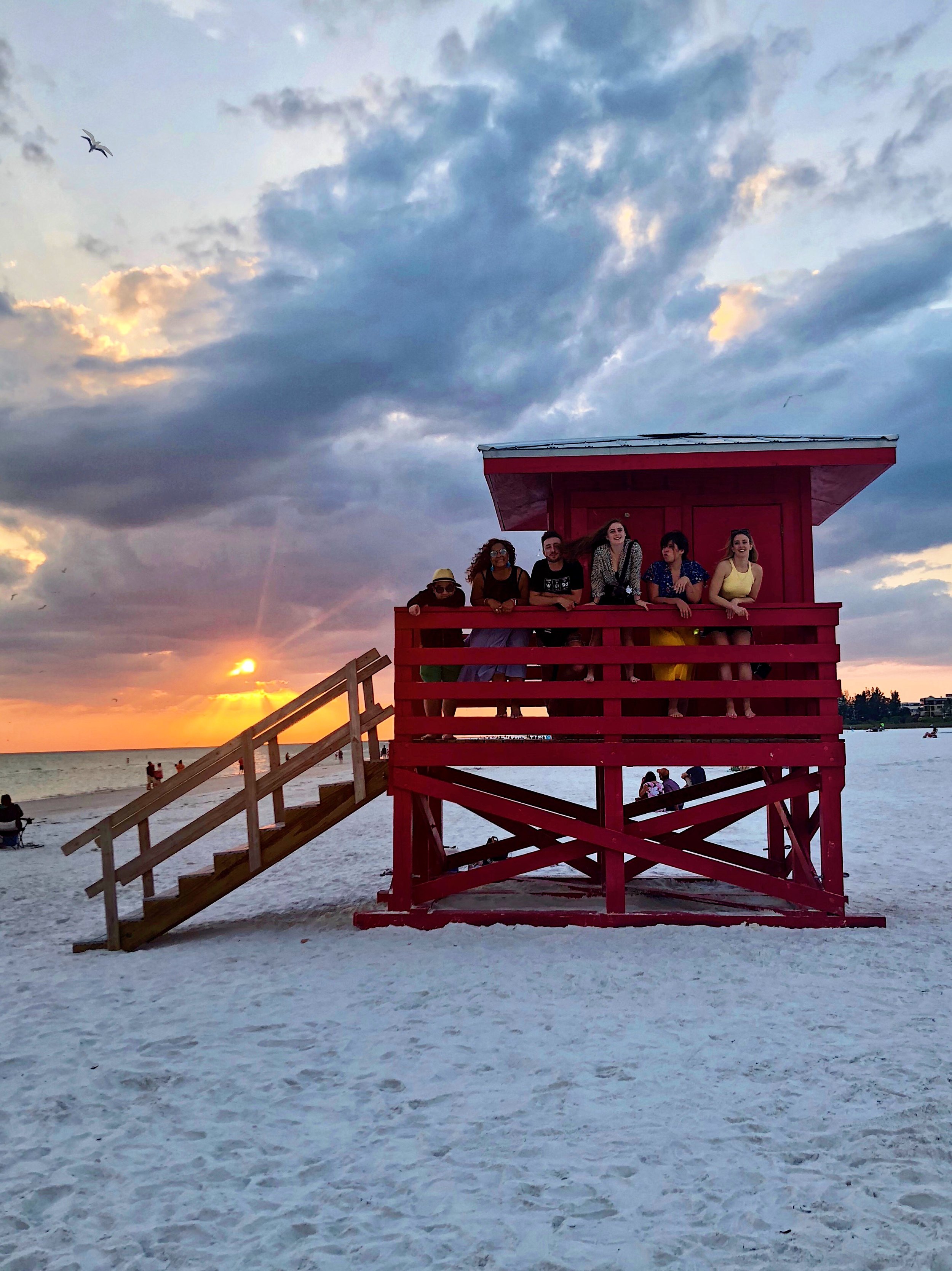 Stay:
The Westin Sarasota - Perfect jumping off point for a Sarasota stay. The rooftop and its pool are not to be missed, at any time of the day and even locals come to have a happy hour here. We had some great bites and drinks- think charcuterie boards with green pea dip, prosecco and pina coladas. Super friendly staff and spacious rooms. Wherever you are sleeping, you're almost guaranteed a wonderful view of some water + pretty city given the vantage point. Plus, the main floor restaurant EVOQ is more than well-equipped for your brunch or dinner needs.
Marie Selby Botanical Gardens (Warhol Exhibit) - Furthering our appetite for culture, we took in a botanical gardens exhibit focused on Andy Warhol. What a fun assignment for all, this must have been! Taking inspiration from Andy, the gardens were put together with his aesthetic and past artistic endeavours in mind. Warhol's original artworks were also on display in a gallery on the property. The fashion girls on the trip were going insane and took some amazing photos here.
The Ringling - Talk about interesting culture sneaking into our trip. The Ringling is the State Art Museum of Florida, run by Florida State University. Such a cool property that manages to be both frozen in time and new age. I loved learning about The Ringling Bro's circus and their personal history, touring their former beachside mansion, etc. and finishing off the day with a gorgeous lunch at Muse at the Ringling. Time well spent. Just like Florida.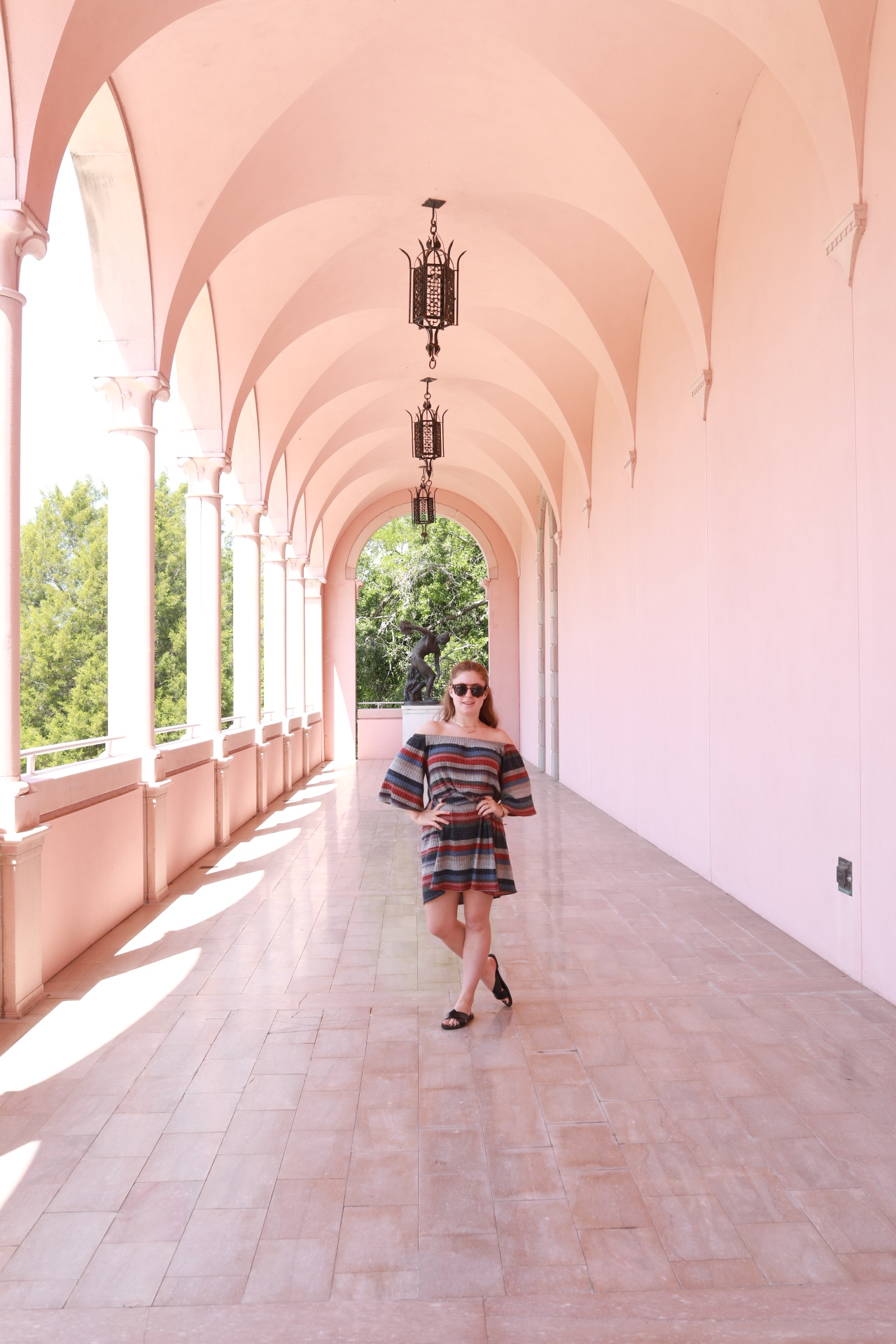 #CANlovesFL #loveFL #TOFtravels
In partnership with Visit Florida.